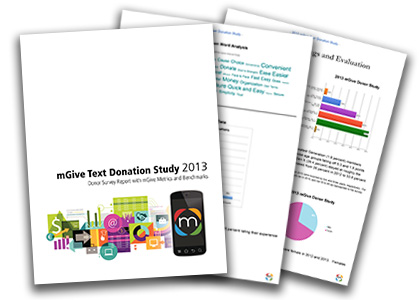 You want your website to work on mobile phones and tablets. You know your email will look different based on the reader's device and preferences. But that's not all there is to mobile marketing.
Have you thought about text messaging? Texting doesn't even seem to be on the radar for a lot of nonprofits, but these survey results from the 2013 mGive Text Donation Study may get your attention: The donors who do give by text really like doing so!
Last month, The mGive Foundation released its latest report based on its third annual survey of text donors. mGive polled 993,672 donors who had completed a text donation through mGive and received 20,445 responses.
Some key findings from the study:
Mobile is one of the top three preferred methods of giving. Donors reported they like to contribute online, with live events, and via mobile donations, which nearly tied as the second pick.
More donors are hearing about text donation campaigns via social media. Social media is second only to TV or radio as the method by which respondents reported hearing about text donation campaigns.
Donors consistently want to give more money through text. Nearly 85 percent of donors would like to give $25 to $50 through text donations, a slight increase from 82 percent in 2012.
This year's survey also shows that donors want more from text messaging than just the ability to donate.
Donors wanting information about volunteering increased from 24% to nearly 33%.
Those wanting survey information increased from 12% to 18%.
Nearly 40% want news and update information from nonprofits.
Perhaps even more important is that donors have positive experiences with text campaigns. Survey results show 85% of respondents rated their experience with text giving as excellent or good.
For more on why your nonprofit should think about adding text messaging to its communication channels, download the 2013 mGive Text Donation Study.
Has your nonprofit used text messaging either for accepting donation or contacting volunteers or supporters? Tell us how you do it in the comments.